AVIATION BREAKDOWN PRODUCT TERMINOLOGY NON-IRON VS WRINKLE RESISTANT DENIM VS CHAMBRAY
AVIATION BREAKDOWN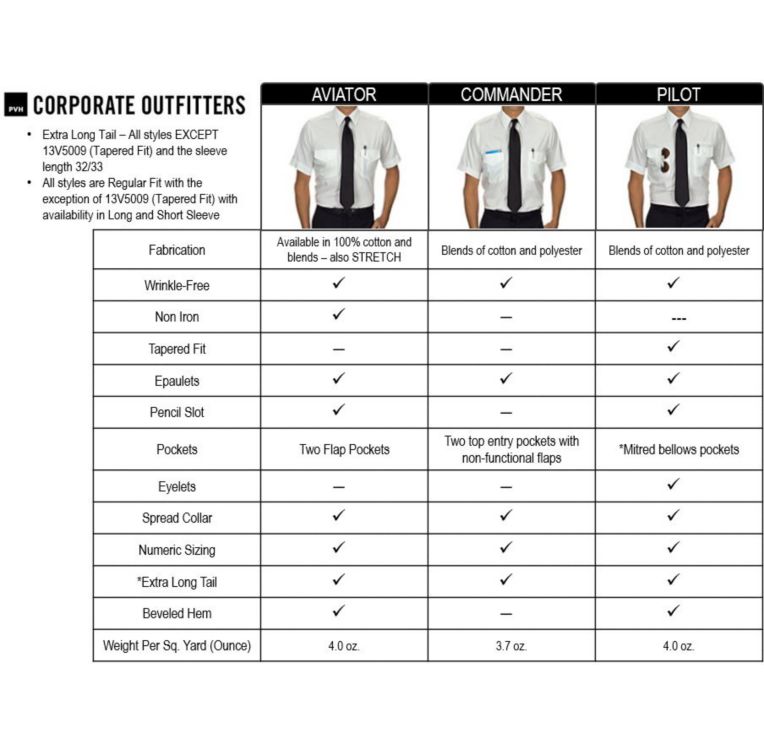 PRODUCT TERMINOLOGY
Alpha - simplified system for sizing apparel. S, M, L, XL, 2X etc. is used instead of neck and sleeve length.
Broadcloth - A plain weave tightly woven fabric that is usually made from 100% cotton or a cotton blend.
Chambray -- A plain woven fabric that can be made from cotton, silk, or manufactured fibers, but is most commonly cotton. It incorporates a colored warp (often blue) and white filling yarns.
Check - A pattern consisting of crossed horizontal and vertical bands in two or more colors in a woven cloth, can be found in upholstery, multipurpose or drapery weight fabrics.
Dobby - A decorative weave, characterized by small figures, usually geometric, that are woven into the fabric structure.
Epaulet – an ornamental shoulder piece on an item of clothing.
Gingham - A medium weight, plain weave fabric with a plaid or check pattern.
Knit- a material with interlaced loops.
Moisture Wicking - a modern technical fabric which draws moisture away from the body. It is made of high-tech polyester, which unlike cotton absorbs very little water.
Non-iron- a shirt woven from wrinkle-resistant fabric to reduce the need for ironing. While fabric cleaning and maintenance may be simplified, some wearers experience decreased comfort.
Oxford - A fine, soft, lightweight woven cotton or blended with manufactured fibers in a 2 x 1 basket weave variation of the plain weave construction.
Pinpoint- Pinpoint cotton belongs to the oxford family of cotton fabrics. Oxford cottons have a soft texture and a "basket-weave" appearance. Pinpoint cotton has an especially lightweight feel and a fine texture
Pique - A medium weight cotton or cotton blend fabric with a pebbly weave that looks almost like a check.
Ply - The number of yarns twisted together to make a composite yarn.
Polyester - A manufactured fiber that has high strength, excellent resiliency, and high abrasion resistance. Low absorbency allows the fiber to dry quickly.
Poplin - A fabric made using a rib variation of the plain weave. The construction is characterized by having a slight ridge effect in one direction, usually the filling.
Spandex - A manufactured elastomeric fiber that can be repeatedly stretched over 500% without breaking, and will still recover to its original length.
Twill - A fabric that shows a distinct diagonal wale on the face.
Woven - Woven fabrics are produced from virtually all types of textile fibers and threads. The fabric is produced by weaving the perpendicular threads, the warp and weft. The fabric is very durable and is most commonly found in upholstery weight goods.
Wrinkle-Free – Wrinkle- Free resistant fabrics are textiles that have been treated to resist external stress and hold their shape.
NON-IRON VS WRINKLE RESISTANT
Non-Iron is going to have wrinkle-resisting performance compared to wrinkle-resistant shirts.
Wrinkle-resistant fabrics need to be ironed or pressed after they are washed for a clean, professional appearance. This treatment will have your shirts looking sharper throughout the day.
Non-Iron shirts, on the other hand, require little-to-no ironing following a wash. If you wash and press a non-iron shirt, It will look even better.
DENIM VS CHAMBRAY
Chambray is a plain weave fabric and denim is a twill woven fabric.